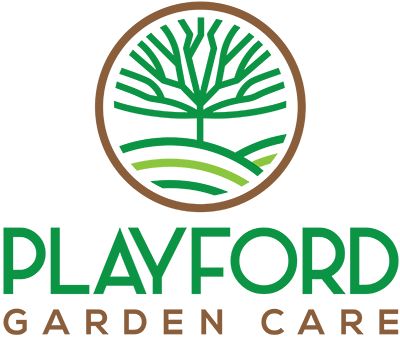 Prompt reliable service at affordable prices
LOCAL PEOPLE LOCAL BUSINESS.
Trust Playford Garden Care with your garden needs.
A well maintained lawn adds value to your home and can provide a cooling effect in the warmer months, reduces mud from entering the house and looks great too.
As well as regular mowing of the lawn we can keep on top of any weeds that manage to find their way into the lawn by applying selective herbicides that kill only the weeds and not the lawn.
Lawn fertilising 2 to 4 times per year is a great way to keep your lawn in top condition.
Our vehicles and trailers take away all grass clippings and pruning waste.
Ride on mowing is available for larger properties.
Hedge Care and overhead lopping
Playford Garden Care is licensed and insured and well equipped to handle tall hedge trimming. We are also equipped to handle most requests to lop dead palm fronds using our extendable pole chainsaws.
Pruning and shaping
The key to productive fruit trees and beautiful roses is thoughtful well timed pruning.
Pruning promotes new growth and keeps things in shape.
The most satisfying moments in garden care are quite often later in the year seeing the results of a thorough winter rose pruning and standing back after trimming hedges and shaping Diosmas.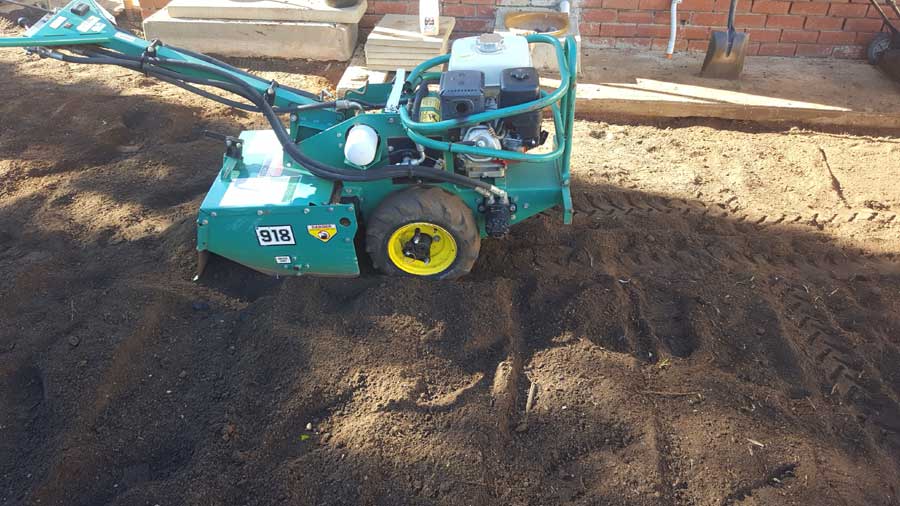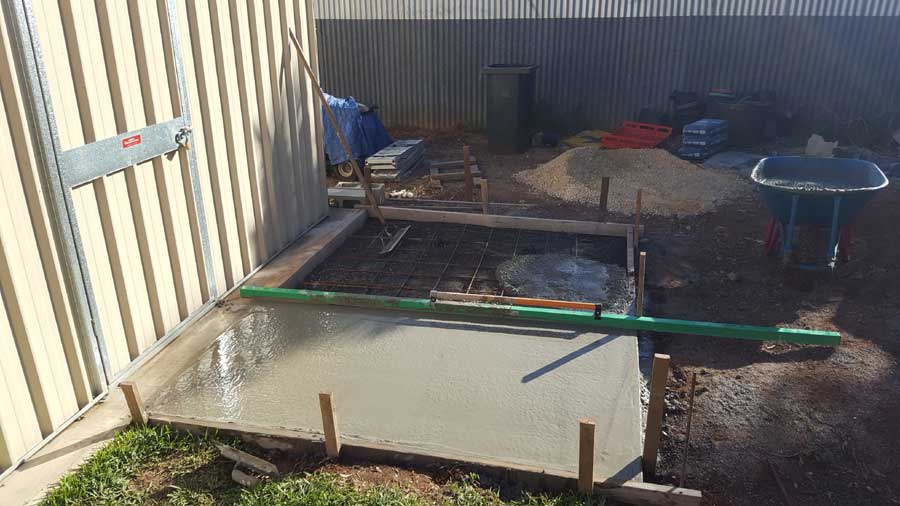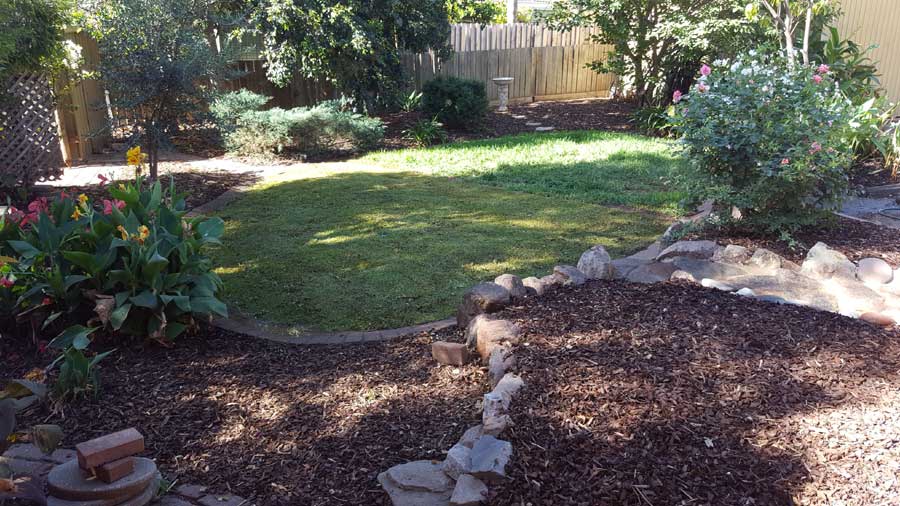 Landscape Construction
The key to a functional and practical outdoor area is working with what is already there and maximising functionality and practicality. Sometimes needs change and a focus on a low maintenance outdoor area is preferable.
Playford Garden Care builds gardens to be easily maintained and endure the test of time working with the characteristics of your yard, your objectives and budget.
With quality weed barrier fabric and bark chips keeping weeds at bay this courtyard is now low maintenance and our client can start a fresh in selecting suitable plants.
The key to a durable, lush, and water efficient lawn is delivered well before the turves arrive from the turf farm.
The quality of the soil is what makes or breaks a lawn. A lawn has a topsoil of approximately 100 mm and a subsoil below that.
Sometimes a little extra work is required if high quality lawn is to be grown or planted on unimproved land.
Amending heavy soil with plenty of organic matter and working it in using a commercial duty rotary hoe is the best way to ensure a suitable subsoil that will retain adequate moisture and still provide drainage, the topsoil then goes on top.
Playford Garden Care sources soils from local suppliers and can advise on which lawn type is best for your yard based around site slope & drainage, proximity to shade, wear and repair and other considerations.
Commercial Enquiries
With the ever increasing trend of outsourcing why not consider a free quote from us to maintain your commercial property, strata or investment?
Playford Garden Care are always there to provide a backup in the event of machinery breakdown or staff absence for our clients who in house their maintenance needs and can arrange to  induct our staff to your company or site.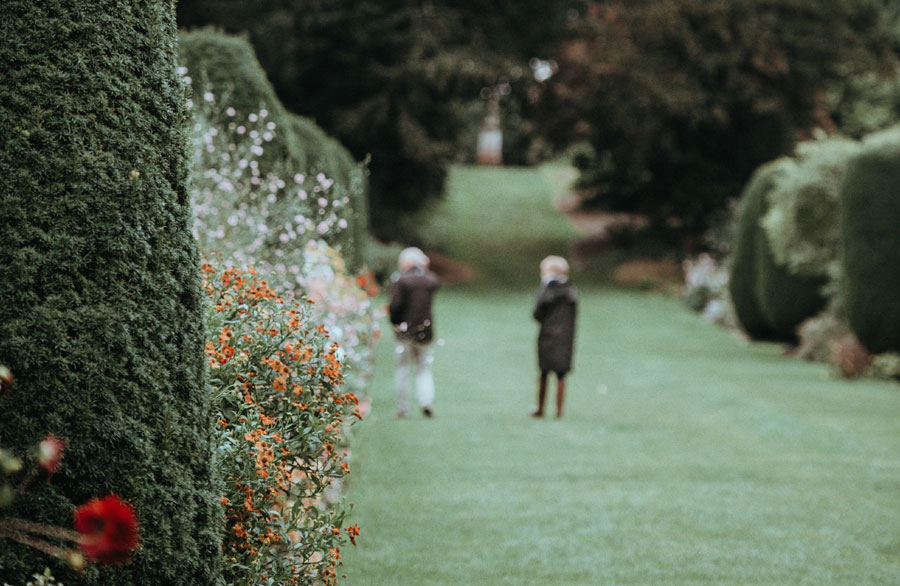 About Us
Playford Garden Care provides a professional gardening and landscaping service to a diverse range of domestic and commercial clientele.
Based in the city of Playford we service the Northern and North Eastern areas of Adelaide as far as Gawler and surrounding areas.
Ashley and our crew of experienced and dedicated staff are always keen to help you make the most of your outdoor area.
Trust Playford Garden Care to look after all your gardening needs.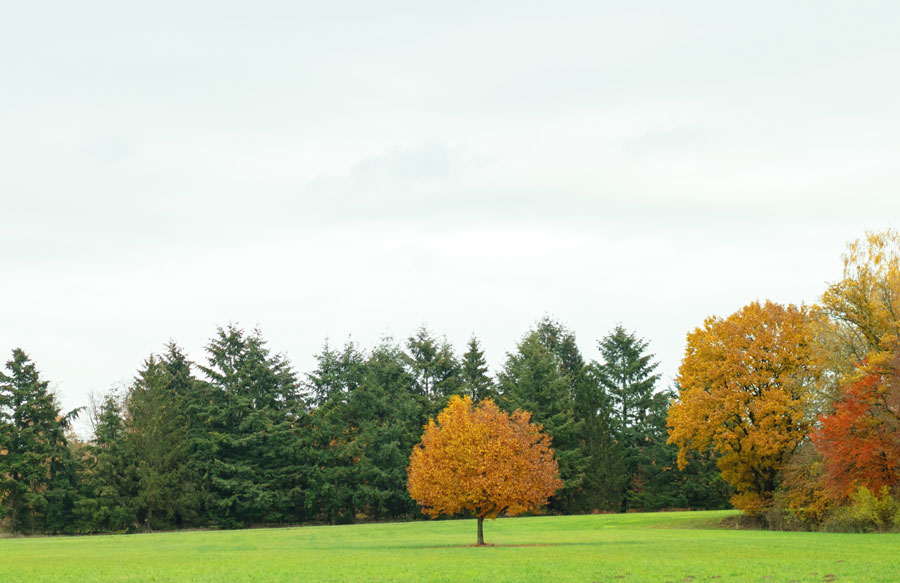 Monday to Saturday 8am to 8pm
Pricing and Quotes
We are competitively priced and offer free quotes on all services.
Due to the nature of our work we can't provide fixed price quotes over the phone or via email.
Our quotes are valid for 7 days.
Payment methods
We accept payment by Cash, EFT, Cheque and now Debit/Credit Card.
To make a payment securely online with your Debit/Credit Card –  Click here.
General Terms of Service
Playford Garden Care is committed to providing a safe efficient and professional garden care service.
Please ensure that the area we will be working in is clear of any obstacles such as hoses, toys and vehicles.  Should obstacles be in the work area we may need to mow around them.
For safety reasons people and animals are to remain a safe distance away while powered equipment is in use.
Bookings may need to be postponed and re scheduled in wet weather and temperature extremes.