At Playford Garden Care, Ashley and our friendly crew of local gardening professionals take pride in providing prompt, affordable LAWN CARE and MOWING services for clients with gardens in Playford, Adelaide Plains and Gawler zoning.
As a client-focused lawn and landscaping business, we enjoy working with people just as much as we enjoy LAWN MOWING and beautifying gardens!
We take the time to engage with our clients to gain a thorough understanding of their garden vision and needs, while also offering advice and applying our extensive gardening knowledge backed by years of experience in best practice and garden care solutions.
Ashley and the team have a sound level of knowledge in lawn care, lawn greening and lawn weed control, but share a greater interest in the world of gardening and landscaping.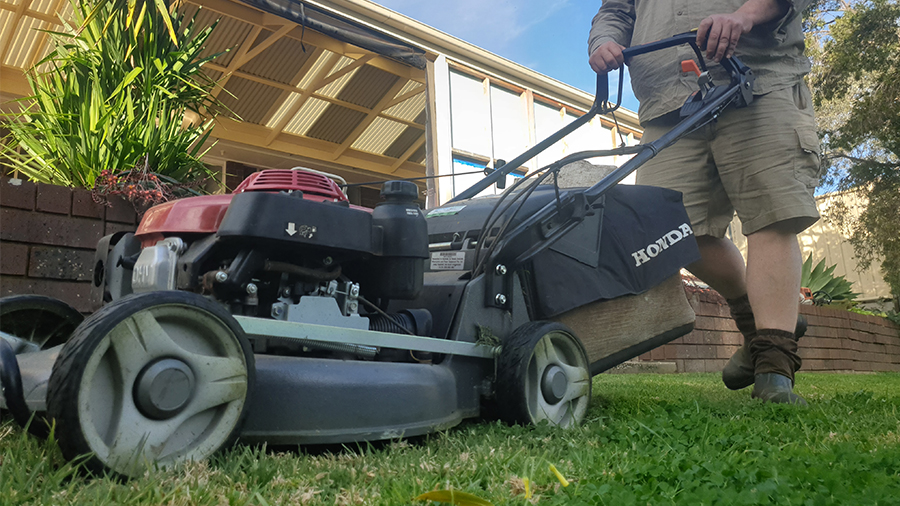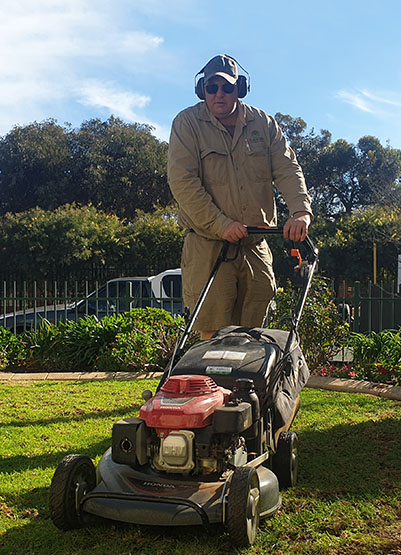 Playford Garden Care was started in 2016 by Ashley Townsend – an experienced gardening and building industry sole trader.
By striving to go above and beyond to look after our client's gardening and soft landscaping needs PLUS consistently re-investing in the business by way of ongoing study and purchasing superior gardening tools and equipment – the vision of becoming a full service gardening and general landscaping business servicing Pooraka, Golden Grove, Elizabeth, Munno Para, Angle Vale and Gawler AREAS came to be. As the business grew and staff were employed to assist with the increased workload and further reach into other northern suburbs.
Ashley is always happy to be out in the field talking with clients in their yards and on the tools assisting the team. As a proud, small local business, Ashley is only a phone call or email away to consult on your lawn and garden needs or to book your job in.

We're big enough to rely on,
and small enough to care
LAWN MOWING IS OUR JAM in Elizabeth, Salisbury, Parafield, Golden Grove, Munno Para, Angle Vale, Evanston and Gawler.
When it comes to the garden the aesthetic centrepiece is typically the good old fashion Aussie lawn. A great looking lawn is the hero of the garden!
Playford Garden Care has been installing and maintaining lawns for several years, and we are yet to see two lawns that are exactly the same.
FREQUENTLY ASKED QUESTIONS ABOUT LAWN
What is the ideal lawn?
That depends on what you are looking to get out of your lawn. Some of our clients like a pristine lawn that is sectioned off to foot traffic and is only ever walked on when it is maintained – this makes us gardeners feel extra special to be doing the job!
These lawns are generally mowed and maintained as often as weekly in their prime growing season and fortnightly at other times of the year. The more frequently a lawn is mowed, the shorter a lawn can be whilst still being healthy. Sports turf areas are mowed as often as daily for this reason.
To get the most out of these lawns a comprehensive lawn care program is implemented, this includes pest control, pre-emergent and post-emergent weed control and lawn feeding and fertilising. The goal is to stay ahead of the game by preventing problems from occurring in the first place.
What variety of lawn is best?
Most of our household lawn mowing clients prefer lawns that are hardy and water efficient, yet green and lush with the ability to quickly self-repair after heavy traffic or a heatwave. The good-old fashion Aussie lawn that you can wash a car on from time to time, host a big party on or play a backyard cricket test match… and of course survive the family puppy as it tries its paws in helping you in the garden!
The three lawn types we mostly see in the suburbs we service (such as Blakeview, Andrews Farm, Hewett, Craigmore, Smithfield, Mawson Lakes and Gulfview Heights) are Kikuyu, Couch and Buffalo-based lawns. These three varieties (below) are commonly regarded as warm-season lawns and have passed the test of time being very well suited to South Australian yards.
How often does lawn need to be maintained?
Most of our clients find that the happy medium for us to attend to their lawns and gardens to generally be on a 3-week rotation all year round. This allows us to ensure that our client's lawns remain healthy, and lets us take any necessary action required to keep on top of things as well as attend to other areas of the garden.
If you are in the market for a new lawn, landscaping, or lawn repair there are excellent lawn and ground cover options to consider including certain Zoysia grasses and Australian native grasses. 
Give your neighbours LAWN ENVY
Presentation of lawns can be enhanced with naturally based proprietary lawn colourant products that fertilise as well as darken the colour the lawn. These products can be used when the lawn is outside its most favourable growing season for a quick and effective green up… A tip to giving LAWN ENVY to the neighbours!
If desired, Playford Garden Care can work closely with clients to offer affordable custom-tailored lawn care and gardening package – this is a FULL CARE SERVICE for the highest results. Sound interesting? Ask Ashley for a quote.
Playford Garden Care offer special promotions on lawn makeovers and fertilising. Stay tuned for more details.
Commercial Lawn Mowing Contracts & Scheduled Visits
Our weekly and monthly routine takes in domestic home lawns but also many commercial business lawns of all types throughout all the northern suburbs from Gepps Cross and Ingle Farm to Gawler and One Tree Hill.
Our longstanding business clients are wide and varied… No job is too small or too large (AND we even have a Ride-On mower for the large lawns!).
Some of the commercial mowing contracts we hold include:
NDIS Funded Clients (plan and self-managed)
Strata Corporations
Child Care Centres
Schools
Commercial and Industrial properties
Government Departments
Aged Care and Lifestyle Villages
Motels and Hotels
Shopping Centres
Real Estate Agents, Landlords, Property Managers
Builders and Trades Businesses for New Property Handover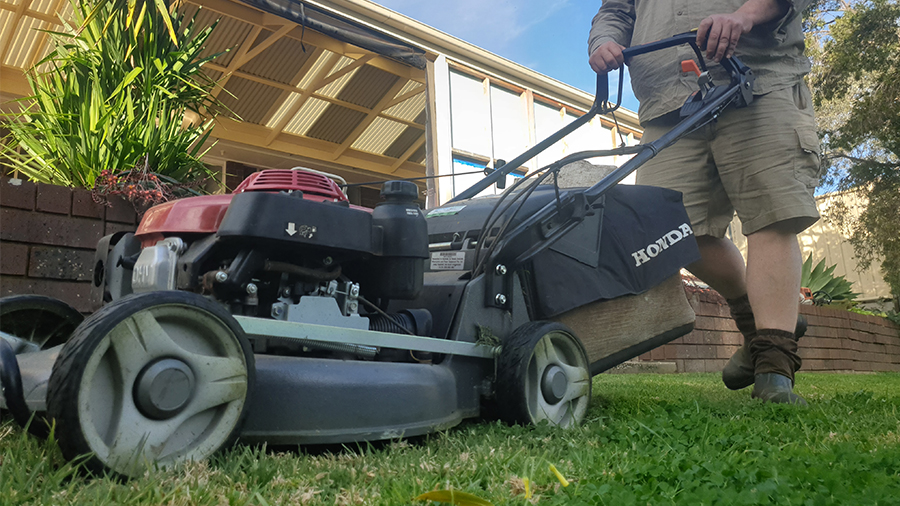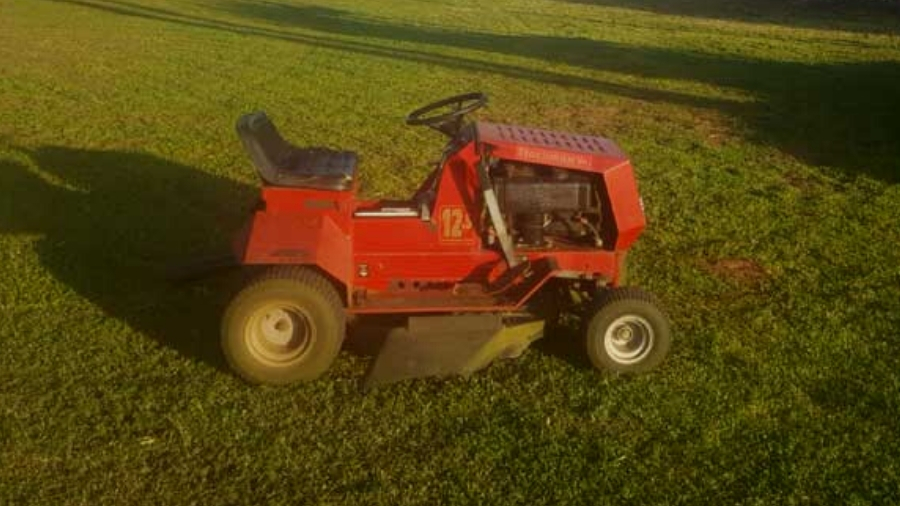 Lawn Repair & Maintenance
For a premium lawn, you need optimal growing conditions. At Playford Garden Care we understand the each suburb has it's own unique characteristics and conditions which affect lawns across the northern suburbs. Prior to seeding or laying a lawn it's vital to consider soil condition and shade constraints which greatly affect the growth of lawn.
Soil Conditions
The best lawns have the best top soil and subsoil underneath. It pays off in the long term to have the best soil to ensure the lawn is able to establish stronger and deeper roots. This in turn creates a more robust lawn which can fend off weeds easier and use less water. Fertiliser can then be utilised to maintain the lawn.
The ideal growing conditions for the lawns we typically see in the areas of Elizabeth, Salisbury, Munno Para, Blakeview and Gawler include a soil PH in the range of 6.5 to 7.
Shade
Some lawn varieties are more shade tolerant than others. Did you know that many lawns are a blend of different grasses? This is especially the case if seed is used to establish or repair a lawn.
Where there are large areas of shades, seeding or laying turf in the areas where the main lawn isn't performing well is an option.
Lawn Maintenance
Most lawns encounter some problems and regular maintenance is required for a premium lawn.
Weed and insect spraying, edging and coring (aeration) can help solve many common problems including:
Soil compaction
Heavy weed or pest infestation
Uneven lawn surface
Excessive lawn thatch accumulation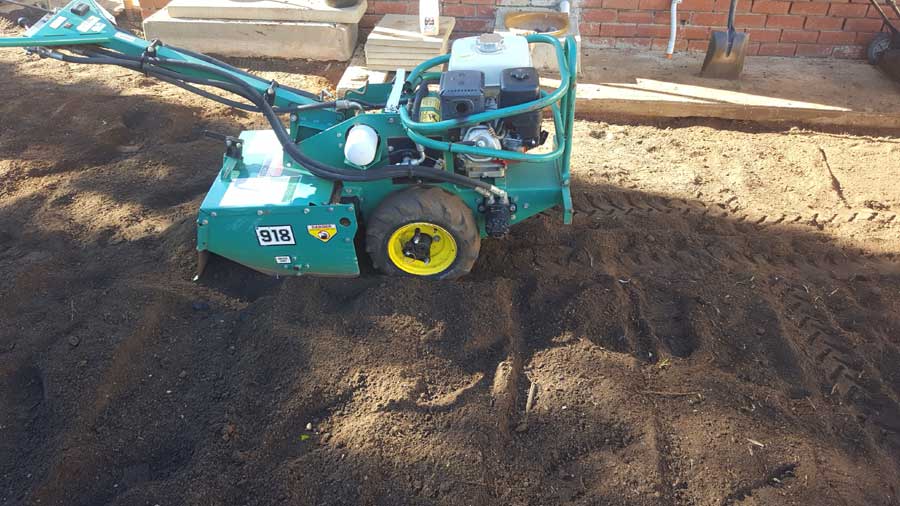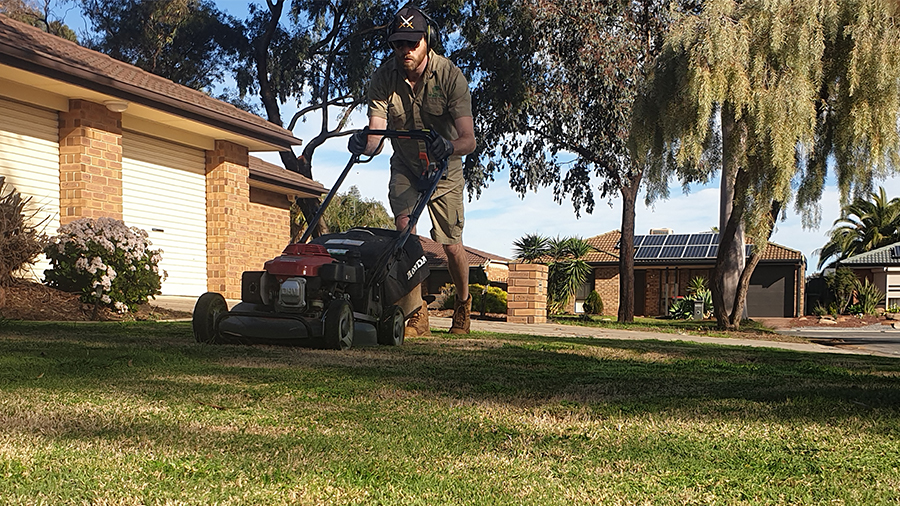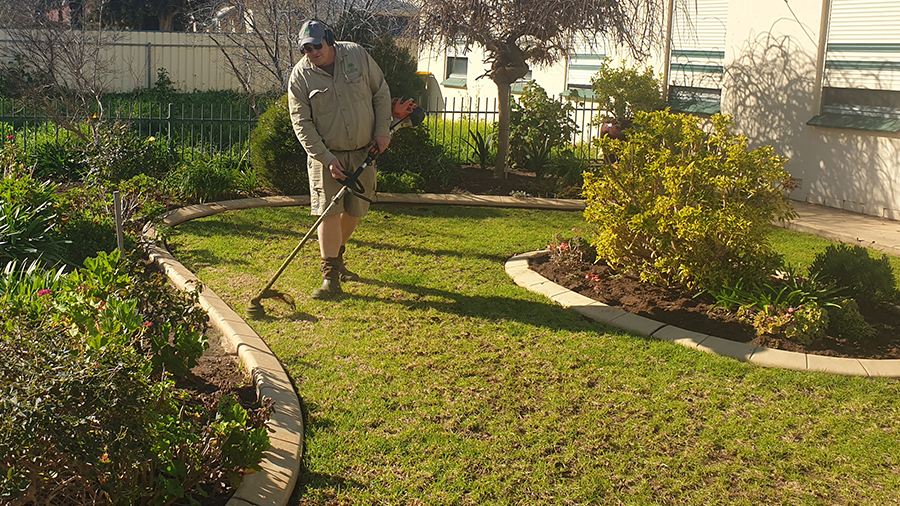 Lawn Aeration… The Secret to Neighbour Envy
Lawns areas that have become overly compacted benefit from Aeration – also known as lawn coring.
At Playford Garden Care, we use a professional lawn coring machine that punctures the lawn and topsoil surfaces. This method ejects cores (leaving holes in the ground) or you can call them plugs, allowing passage of air, water and nutrients to the roots of the lawn which greatly improves the overall lawn health.
When is the best time to Aerate?
Warm season grasses including Kikuyu, Couch and Buffalo based lawns respond well to aeration in Spring and Summer months – generally aeration is performed in the most favourable growing season for your specific lawn type.
It can also be done at the same time as dethatching (also known as scarifying). Dethatching is the removal of the excessive live and dead growth a lawn naturally produces. This growth can become problematic when it has become so excessive that air, water and nutrients are unable to effectively make their way to the root system of the lawn.
Aeration provides a great opportunity to improve and top dress the lawn. Adjustments to the soil PH can also be carried out if necessary. Clay based soils may benefit from adding gypsum, and fertiliser is also usually added.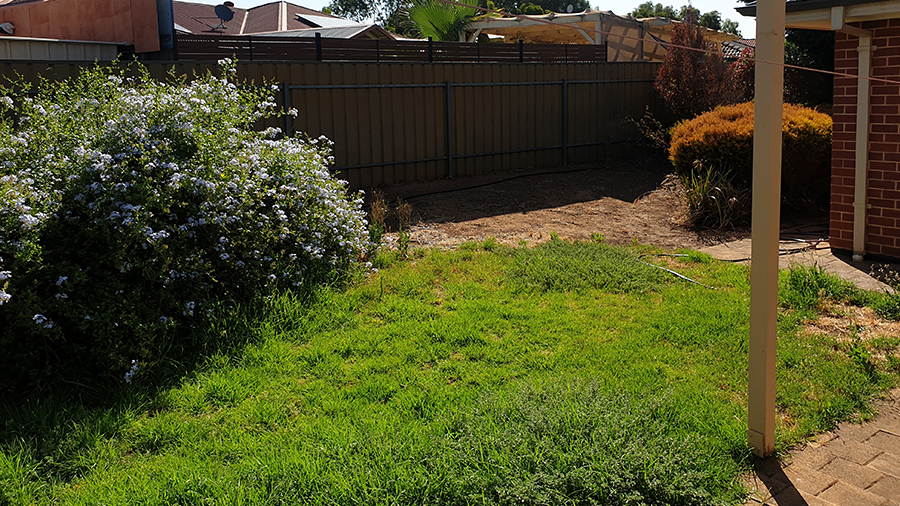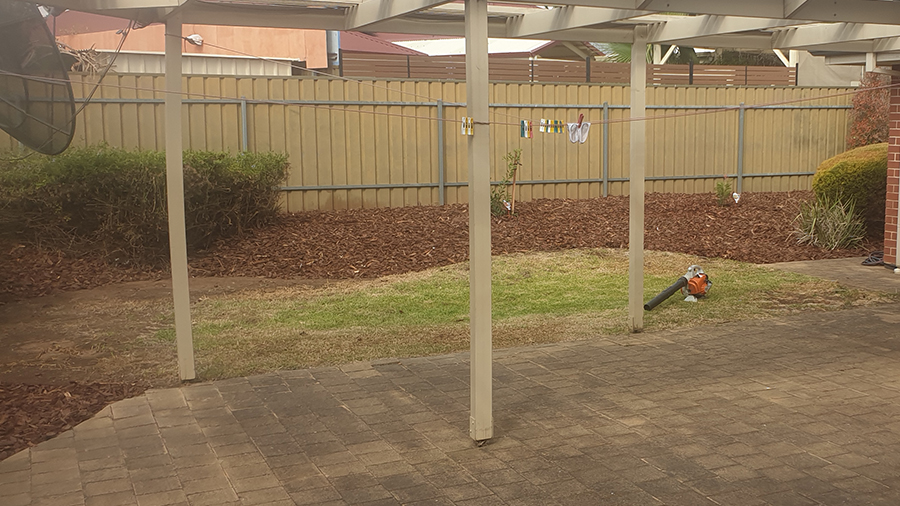 What an improvement! Before & after backyard transformation
Lawn Scarifying
Lawn Scarifying is the process of removing living and dead organic matter including stolons and rhizomes that a lawn accumulates throughout its life cycle. Scarifying also reduces excessive root zone accumulation, and aids in restoring the lawn from being excessively spongy to walk on due to having an excessive layer of thatch.
At Playford Garden Care, we use a commercial-duty lawn Scarifying machine to help water, air and nutrients to return to the root zone of lawns, improving their overall condition. We also utilise manual dethatching rakes in areas that the machine cannot be used to ensure a thorough job is completed. This is particularly important for areas in the vicinity of underground irrigation pipes and near pathways.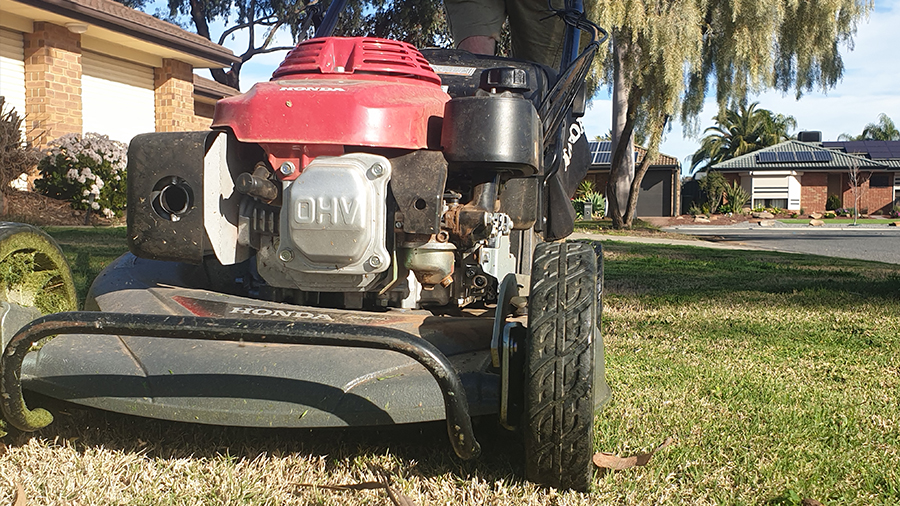 Kikuyu & Couch Lawns
Warm-season lawns Kikuyu and Couch benefit from lawn scarifying from mid Spring to early Summer.
This is particularly relevant for lawns across suburbs including Pooraka, Ingle Farm, Gulfview Heights, Angle Vale and Gawler.
Buffalo Lawns
Thatch management of buffalo lawns focuses around mowing on a more regular basis. This in turn allows the lawn to be cut lower, reducing the opportunity for thatch build up to become excessive.
Manual dethatching of buffalo lawns is also an option. Importantly, at Playford Garden Care we do not perform mechanical Scarifying on buffalo lawns.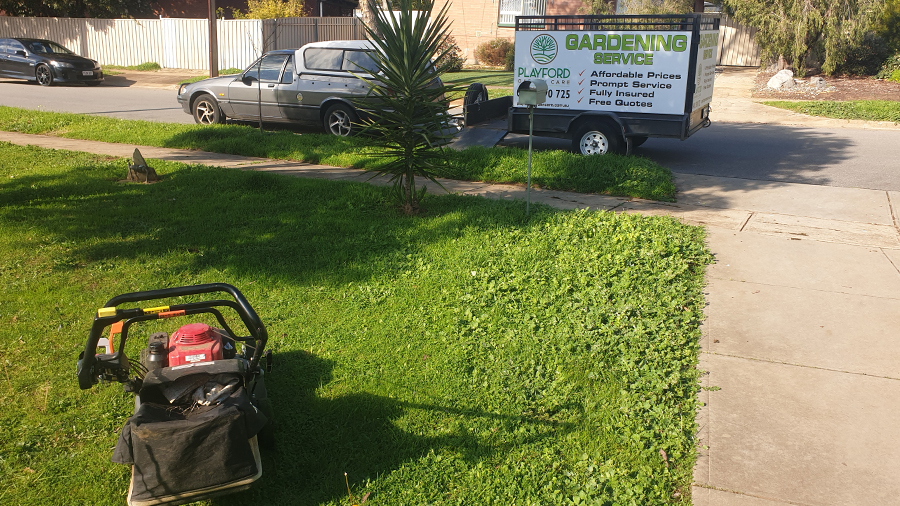 Playford Garden Care offer fantastic deals on lawn coring and scarifying throughout the year. Stay tuned for more details.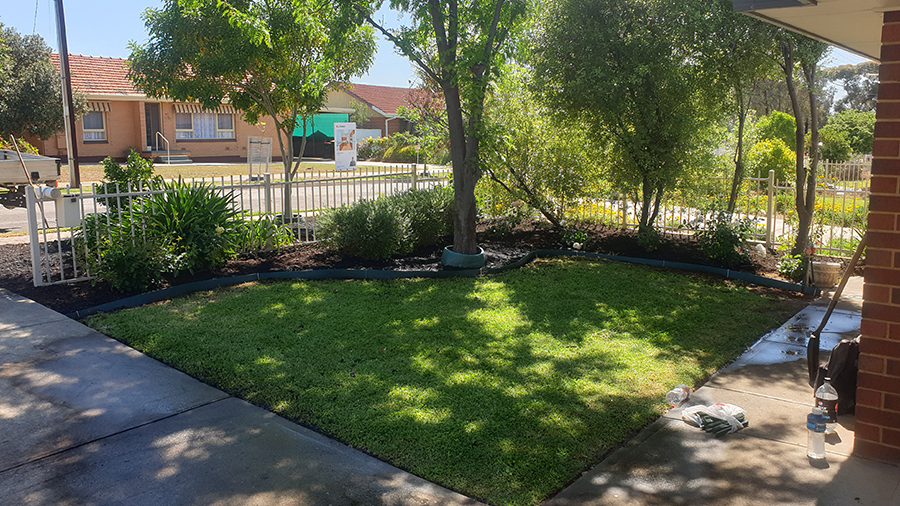 Monday to Saturday 8am to 8pm
Pricing and Quotes
We are competitively priced and offer free quotes on all services.
Due to the nature of our work we can't provide fixed price quotes over the phone or via email.
Our quotes are valid for 7 days.
Payment methods
We accept payment by Cash, EFT, Cheque and now Debit/Credit Card.
To make a payment securely online with your Debit/Credit Card –  Click here.
General Terms of Service
Playford Garden Care is committed to providing a safe efficient and professional garden care service.
Please ensure that the area we will be working in is clear of any obstacles such as hoses, toys and vehicles.  Should obstacles be in the work area we may need to mow around them.
For safety reasons people and animals are to remain a safe distance away while powered equipment is in use.
Bookings may need to be postponed and re scheduled in wet weather and temperature extremes.