Playford Garden Care is only a phone call away for prompt, affordable Yard Clean-Ups and Rubbish Removal.
With many years of experience in Garden Care, Landscaping, Yard Clean-Ups and Rubbish Removal you can rely on Playford Garden Care.
Our Yard Clean-Ups include more than just rubbish removal…
We professionally trim hedges and shrubs, as well as trim, lop and remove dead or unwanted trees, attend to weed control and professionally mow, edge and repair lawns.
Ashley and the team can also take care of periodic maintenance including gutter cleaning and high pressure pavement cleaning.
Playford Garden Care have the tools, equipment and experienced staff to safely remove difficult items from your property including old rainwater tanks, garden sheds, clotheslines and other bulky items.
We enjoy working with our clients on a strategy to make their yards aesthetically pleasing, functional and easier and more cost effective to maintain.
If your goal is to give your yards a new lease on life, see below for quick, affordable ways we can SPRUCE UP your outdoor area after we CLEAN-UP!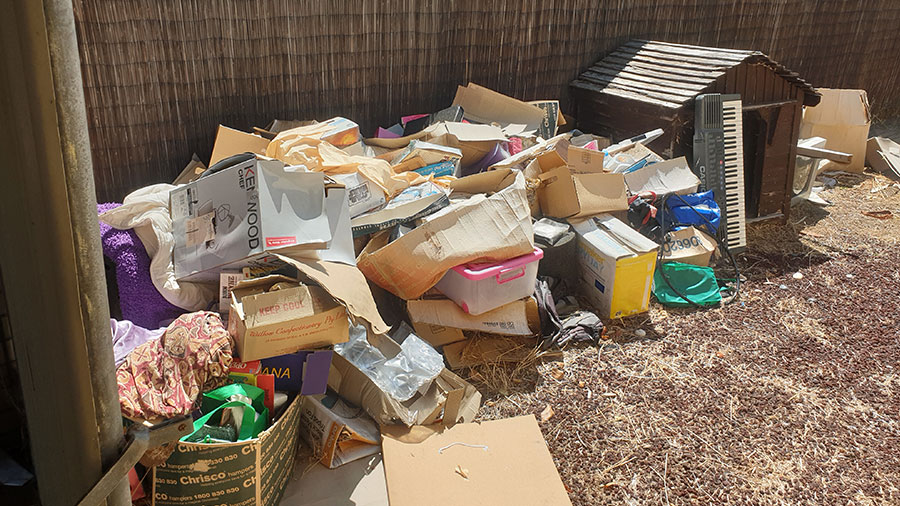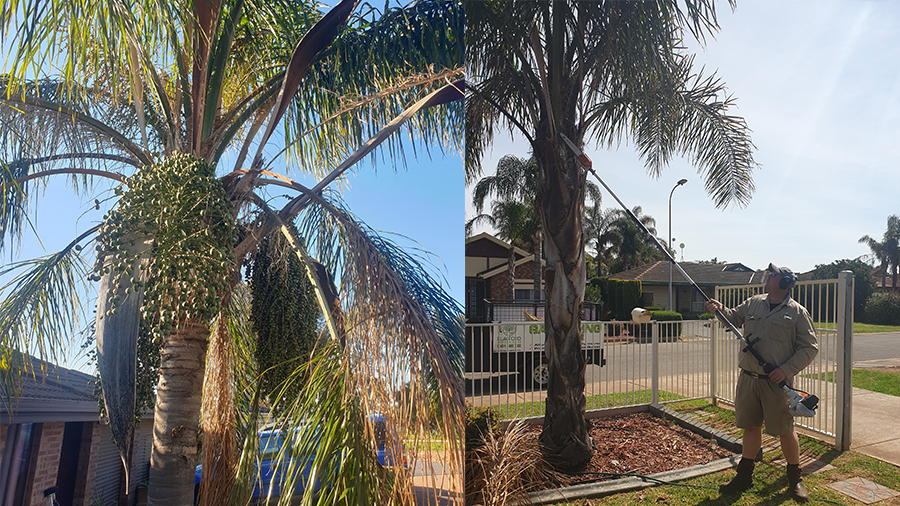 Amazing yard transformations!
When it comes to Yard Clean-Ups & Rubbish Removal, one call does it all! We do all the hard work.
Our clients often mention that our YARD CLEAN-UPS and RUBBISH REMOVAL are a much more efficient, value added and cost effective solution to DIY options such as hiring a mini skip and loading it themselves because, it can't always be delivered as close to the work site, can be too heavy for some driveways and still needs to be loaded to specific volume and weight restrictions.
Our professional trailers and vehicles range in size and can carry greater volumes of waste than mini skips in the same category. They are able to fit through carports and safely underneath overhead power and telephone lines, and are not so heavy as to run the risk of pavement damage to driveways.
Playford Garden Care is a professional Gardening Service, so we always have the right tools on hand to cut waste down to size to make the most of our trailer space.
Playford Garden Care is fully insured and our experienced staff are trained to promptly assess the worksite and safely and efficiently complete the job.
More than a Few Kitchen Sinks…
Trust Playford Garden Care for Yard Clean-Ups and Rubbish Removal.
Note: We CANNOT remove Asbestos, Medical Waste or Hazardous Materials. Please see more information in our Waste Removal FAQs.
Garden Waste
trees
shrubs
weeds
leaves
lawn clippings
soil
General Household
furniture
clothing
plastics
cardboard
paper
polystyrene
Bulky Rubbish
clothes lines
hot water heaters
mattresses
couches
fridges
tables
stoves
Office Rubbish
filing cabinets
desks
chairs
electronics
Building Materials
wood
plasterboard
pipe & metal
carpet
concrete
bricks & pavers
Perfect Solution for Everyone
Playford Garden Care looks after everyone's yard needs:
Households
NDIS Yard Clean-Ups
Strata Corporations
Child Care Centres
Schools
Commercial and Industrial properties
Government Departments
Aged Care and Lifestyle Villages
Motels and Hotels
Shopping Centres
Real Estate Agents, Landlords, Property Managers
Builders and Trades Businesses for New Property Handover
Yard Clean-Ups are the Basis for Yard SPRUCE UPS!
Popular and cost effective options to spruce up your outdoor area for the long term that we can provide after we finish at the waste transfer facility, that are perfect to help make the most out of your yards include…
Supply and top up of mulch in garden beds to help suppress weeds, aid in plant health and enhance aesthetics.
Supply and top up pebbles and scoria in driveway areas to enhance aesthetics and reduce mud transfer.
Supply and install stepping stones for foot traffic areas around clothes lines, rumpus rooms and sheds to reduce mud transfer and slipping hazards.
Supply and plant low maintenance trees and shrubs.
Repair lawn areas and irrigation systems.
Re-model Your Yard
Eliminate or minimise problem areas by re-modelling your yard. This could include installing or extending garden beds in areas that lawn simply cannot grow effectively.
This often occurs due to shade amongst other factors that tend to lead to weeds taking over and can also lead to excessively muddy areas.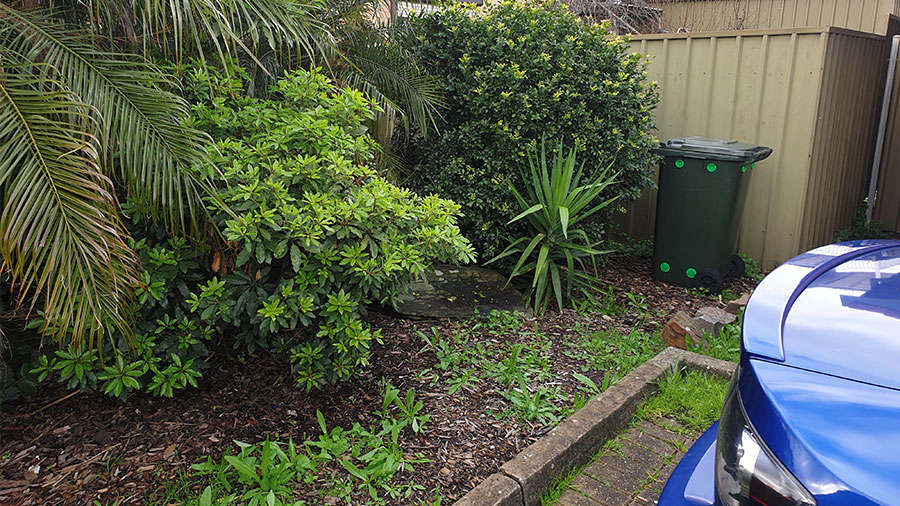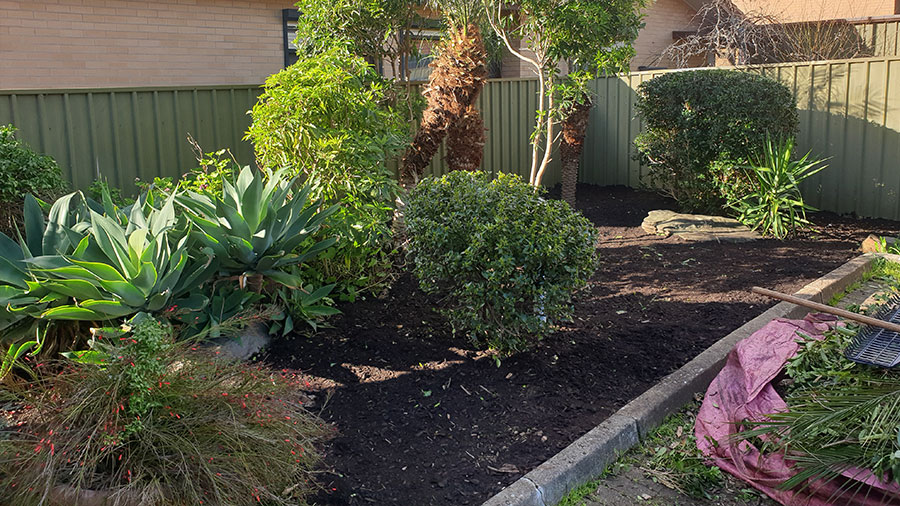 What an improvement! Before & after backyard spruce up!
Playford Garden Care offers special promotions on yard clean-ups and rubbish removal. Stay tuned for more details.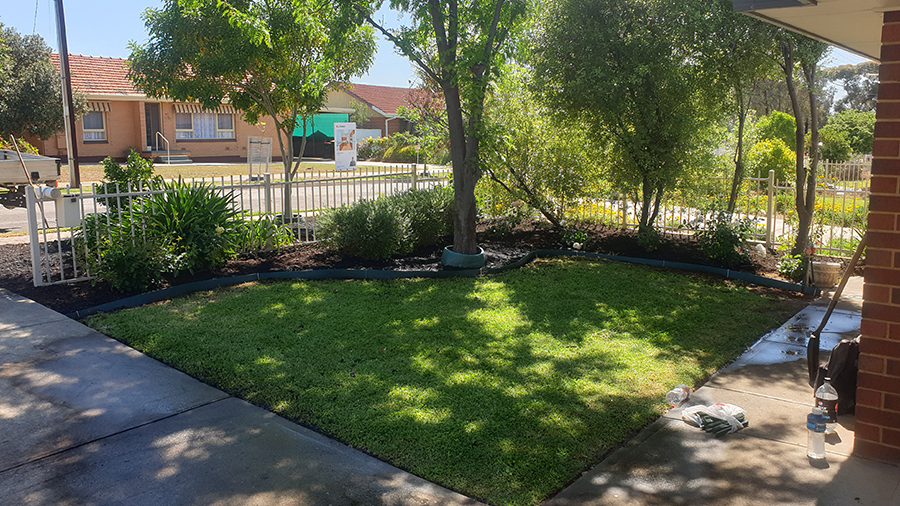 Monday to Saturday 8am to 8pm
Pricing and Quotes
We are competitively priced and offer free quotes on all services.
Due to the nature of our work we can't provide fixed price quotes over the phone or via email.
Our quotes are valid for 7 days.
Payment methods
We accept payment by Cash, EFT, Cheque and now Debit/Credit Card.
To make a payment securely online with your Debit/Credit Card –  Click here.
General Terms of Service
Playford Garden Care is committed to providing a safe efficient and professional garden care service.
Please ensure that the area we will be working in is clear of any obstacles such as hoses, toys and vehicles.  Should obstacles be in the work area we may need to mow around them.
For safety reasons people and animals are to remain a safe distance away while powered equipment is in use.
Bookings may need to be postponed and re scheduled in wet weather and temperature extremes.