Playford Garden Care provide prompt, affordable LANDSCAPE gardening project solutions to our clients with gardens in Playford, Adelaide Plains and Gawler areas.
As a client-focused lawn and landscaping business, we enjoy working with people just as much as we enjoy maintaining, designing and building gardens!
We take the time to engage with our clients to gain a thorough understanding of their garden vision and needs, while also offering advice and applying our extensive gardening knowledge backed by years of experience in best practice and garden care solutions.
Ashley and the team have a sound level of knowledge in lawn care, lawn greening and lawn weed control, but share a greater interest in the world of gardening and landscaping.
Design, Supply, Install and Repairs to…
Instant Turf

Automated Irrigation Systems

Raised Masonry Garden Beds

Garden Soil

Soil Amendments

Plants & Trees

Bark, Mulch, Pebble, Decorative Stone

Garden Pathways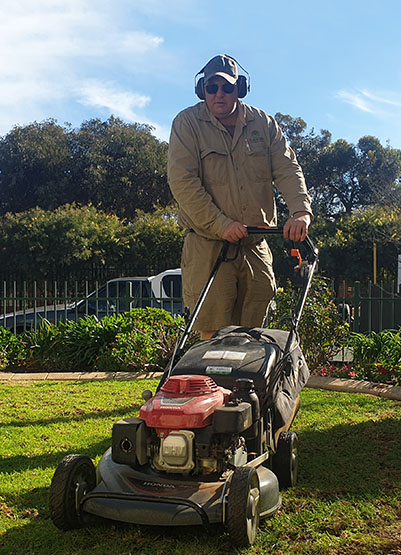 Playford Garden Care was started in 2016 by Ashley Townsend – an experienced gardening and building industry sole trader.
By striving to go above and beyond to look after our client's gardening and soft landscaping needs PLUS consistently re-investing in the business by way of ongoing study and purchasing superior gardening tools and equipment – the vision of becoming a full service gardening and general landscaping business servicing Pooraka, Golden Grove, Elizabeth, Munno Para, Angle Vale and Gawler AREAS came to be. As the business grew and staff were employed to assist with the increased workload and further reach into other northern suburbs.
Ashley is always happy to be out in the field talking with clients in their yards and on the tools assisting the team. As a proud, small local business, Ashley is only a phone call or email away to consult on your lawn and garden needs or to book your job in.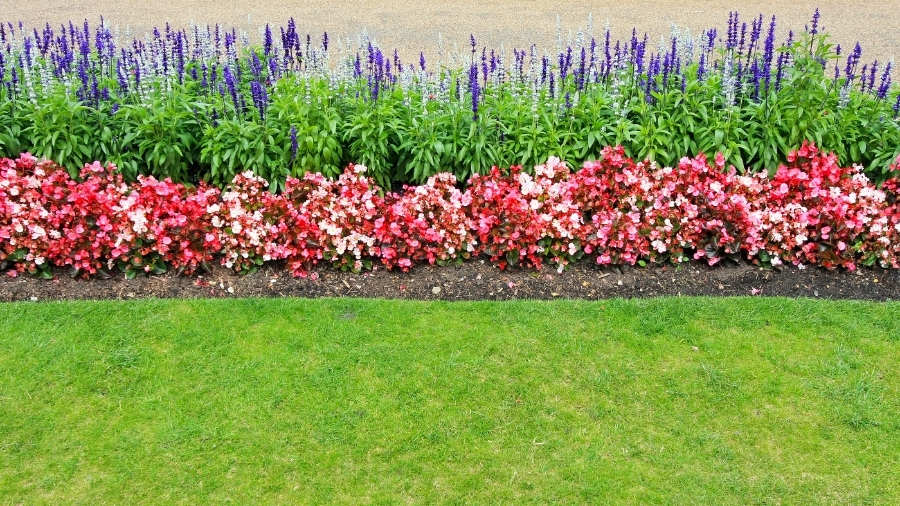 Do you visualise a beautiful lush green lawn bordered by the everlasting structure and elegance of a raised garden bed containing a colourful abundance of annual and perennial plants?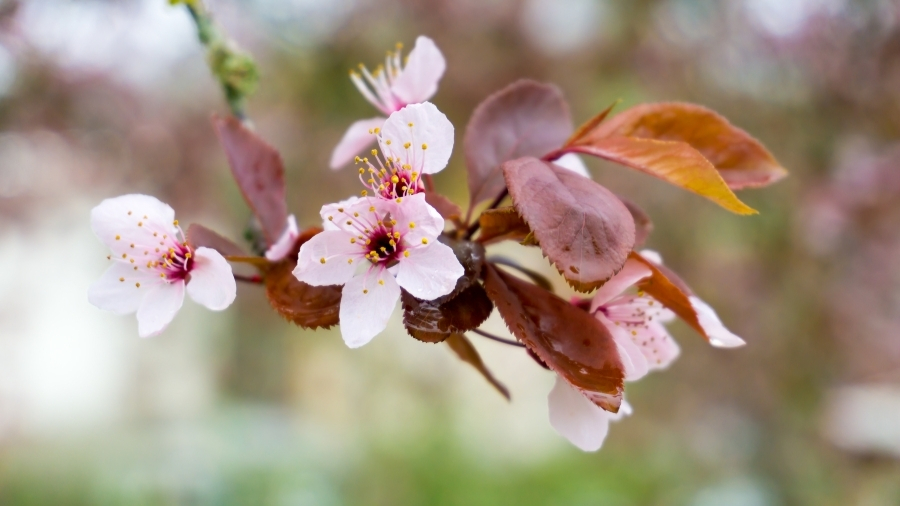 Perhaps your garden vision is an open lawn area with a row of fruit trees, the anticipation of a bounty of fruit to share with the family coupled with the seasonal beauty of flowers from a plum tree?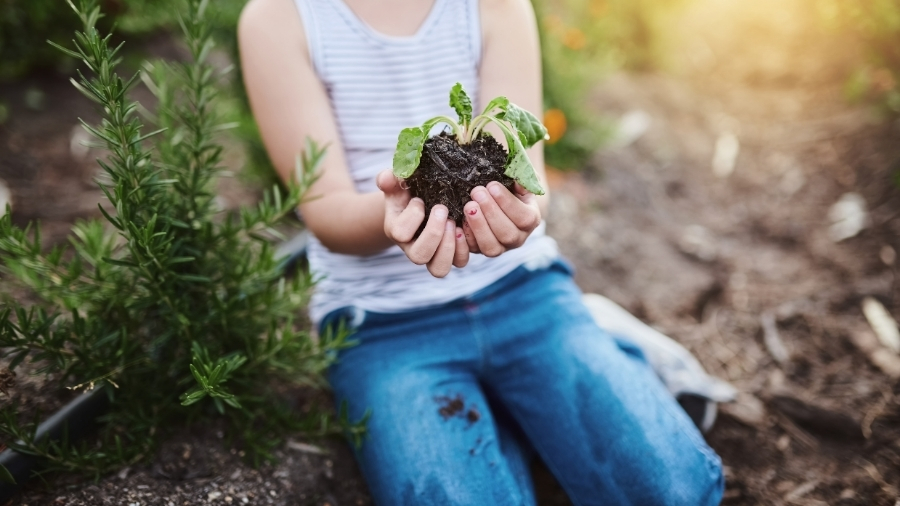 Would you like to inspire your children's interest in the great outdoors by adding a raised garden bed to grow herbs, vegetables or other edible fruits?
No matter what your garden vision...
Is it a new garden, or enhancing the functionality and practicalities of an existing garden?
Our approach is to work with your garden vision and draw on our knowledge and experience as maintenance gardeners to create your perfect space. We aim to build gardens that are resource efficient and easy to maintain.
Many of our clients in the Northern areas find that the boring old fence or otherwise dull area of their yard doesn't need to be a limiting factor. Installing a lattice panel with a climber, adding an element of privacy by planting suitable screening such as Pittosporum, or creating a more structured outdoor area by planting a box hedge can transform your spaces.
Other clients like their garden to take on a more formal look which can be achieved by planting standard roses either in a dedicated garden bed or amongst other plants.
Adding outdoor furniture and garden statues are also a great way to make the most of your ever evolving garden.
Resourceful Gardens
Our outlook is that a resource efficient garden works with the natural characteristics of your yard, the geographical location and aspect to the sun. We also consider other factors including shade, soil types and site drainage.
A resource efficient garden is built to endure the test of time and enables you to spend less time on maintenance matters such as water, fertilizer and weed and pest control.
Suitable Planting
When working with our clients to enhance an existing garden we consider how the proposed works could positively or adversely affect other trees, plants or structures such as fences, a carport or the house itself.
This include selecting suitable trees – taking into account it's growth rate, root structure, how well it performs in the current soil and local environment, as well as if it is evergreen or deciduous.
Seasonal Planting
When suggesting the addition of a deciduous tree to our clients in Playford, Adelaide Plains or Gawler regions, we consider all aspects of seasonal shedding. Positives of tree's seasonal shedding of leaves might include allowing sun into the house in the cooler months yet shading a portion of the house in the warmer months. Potential negatives could be if leaves are likely to cause excessive leaf litter that could block pathways, ground drainage or the gutters of nearby buildings.
Functional Landscaping
We like to work with what you have already. If existing trees have been planted too close to buildings, fences and other structures we could modify the existing pathways around the tree. If a tree's leaf litter is adversely affecting a roof line, we could install a gutter barrier and check that the gutters of the building are cleared more frequently in that area and only consider asset clearance pruning of the tree or removing the tree at last resort. Functional and attractive gardens are an investment that give people great pleasure and add value to your home.
Lawns
Working with you we create a well thought out plan to install a lawn in your yard. All factors are considered including the size, site slope and utility purpose of the proposed lawn, as well as advice about the lawn areas ongoing care requirements including its mowing, pest and weed susceptibility and watering requirements.
The three main natural turf grass lawns we install and maintain in Playford, Adelaide Plains & Gawler are: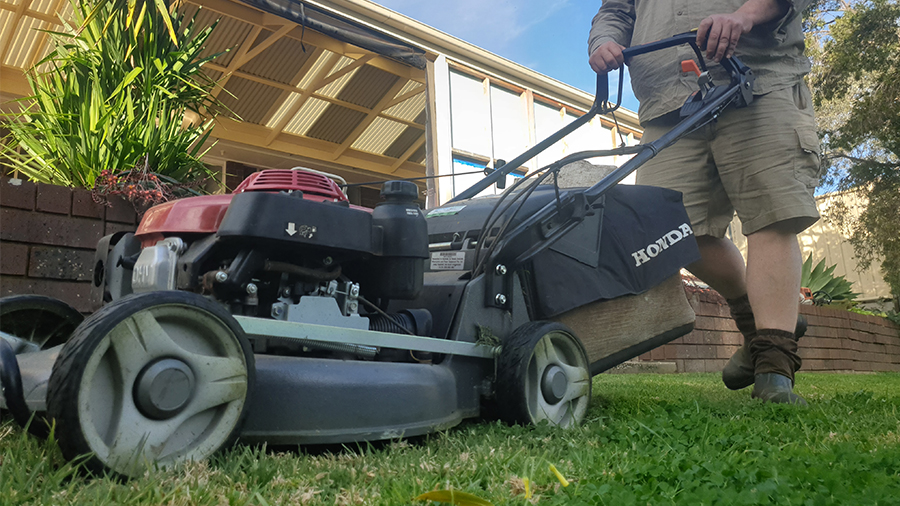 Kikuyu
Modern turf grass Kikuyu varieties are a popular choice for the home lawn. Kikuyu lawns are easy to maintain and have robust wear and repair and drought tolerances.
Many of the lawns we see in large area public recreational spaces and maintain in the domestic setting are kikuyu-based lawns.
Couch
An ideal choice for those that desire a short, flat under foot turf area are couch turf grasses.
Often installed on sporting fields including golf courses and mowed at shorter heights, couch turf provides strong wear and repair characteristics.
Buffalo
Buffalo turf grass varieties present very nicely and grow well in yards with areas that are frequently in shade throughout the day. The wear and self-repair characteristics are not quite as strong as Kikuyu or Couch turf grasses because Buffalo turf grasses do not have underground rhizomes to aid in self-repair.
Modern Buffalo turf grasses are weed and pest resistant and benefit from preventative pest control and fertilization. It is important to note that selective herbicides containing Dicamba must not be used on Buffalo lawns.
The Secret is in the Soil
Newly constructed houses tend to have the fertile soil necessary for plants, trees and lawn to thrive despite being removed or buried deeply during construction works. We've found this is quite prevalent in Playford, Adelaide Plains & Gawler.
Often the home builder leaves enough space between the pavement level of driveways and footpaths for a lawn to be established without the need for additional earthworks. However with existing properties with established pavement levels, we will often need to repair and prepare the soil for a healthy and sustainable lawn.
The solution is often as simple as removing an adequate amount of excess heavy soil (the soil that can't support healthy plant growth), then using a commercial duty rotary hoe we turn can over the soil.
The process of amending soil prior to lawn or garden bed installation involves adding plenty of organic matter and deeply turning it over. This ensures a healthy subsoil for the lawn or garden bed. We perform multiple runs with the rotary hoe before placing and level the topsoil that the lawn will be laid onto.
Any heavy soil that contains stones, concrete etc that is removed by our works can be taken to a waste transfer facility by us for recycling as back fill, or can be repurposed to another area of your yard, usually for back fill purposes.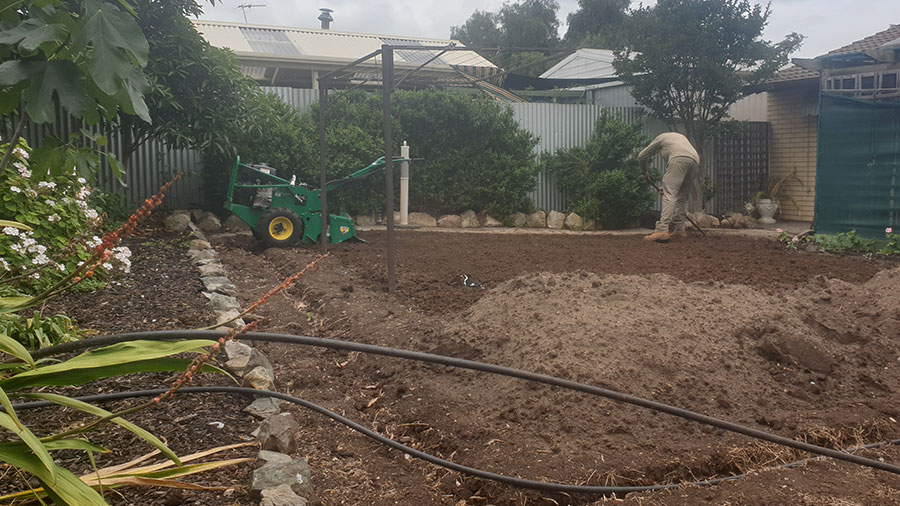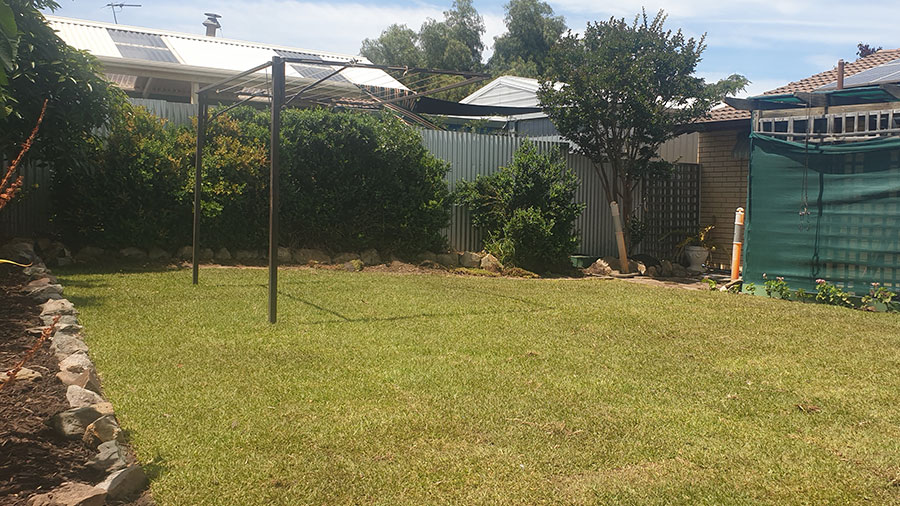 Irrigation & Watering
Playford Garden Care specialises in designing and installing custom made lawn and garden bed irrigation systems prior to the installation of new turf or raised garden beds.
Water is a precious resource and an automated watering system helps reduce unnecessary water wastage, and makes watering easier. Our irrigation systems are designed with provision to be extended to other areas of your yard as your garden evolves and are also able to be controlled remotely from the palm of your hand via apps and wifi connections.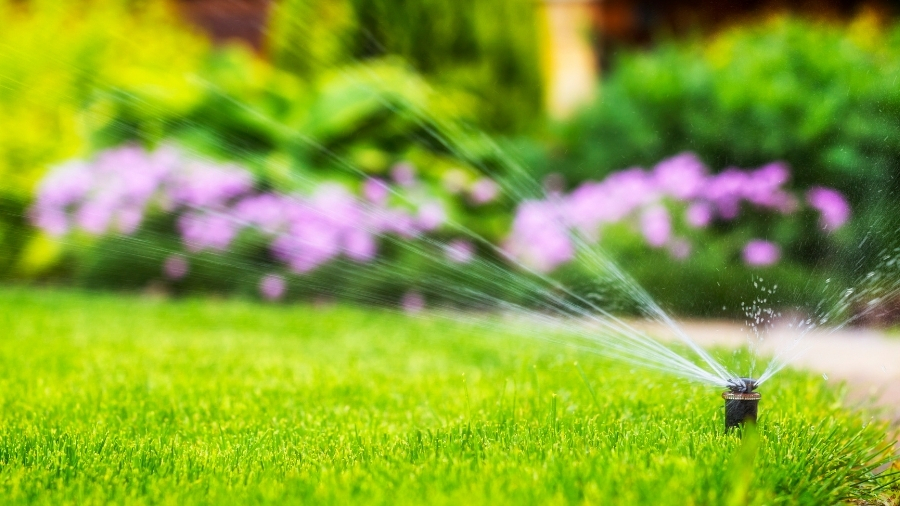 Masonry Garden Edging & Garden Bed Installation
Working within your budget and garden vision we can design and install a variety of functional and attractive masonry garden edging solutions designed to endure the test of time.
Masonry garden walls and edging have the advantage of being low maintenance, easily cleaned and are not subject to wood rot or pest issues.
Playford Garden Care specialise in adding value to smaller scale residential garden projects. Our clients throughout the Northern Suburbs find that masonry garden edging and walling solutions are an ideal way to visually add definition to their yards by showcasing their landscapes natural soil height variations.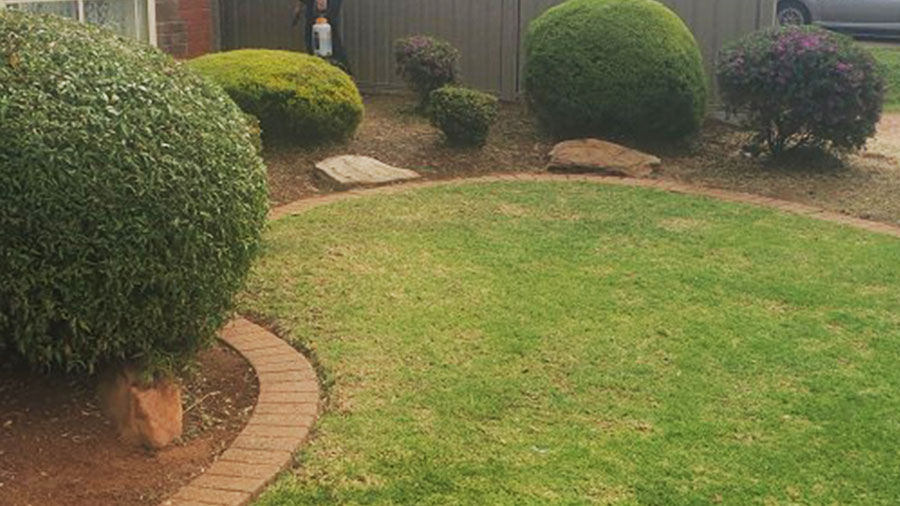 Paths & Stepping Stones
Specialising in smaller jobs Playford Garden Care provides quality garden pathway maintenance and installation solutions.
Gravel, Scoria & Pebble
Playford Garden Care can supply and install Pebble, Scoria and Gravel landscape products. We work with you to create a functional and aesthetically pleasing low maintenance outdoor area.
High quality weed barrier fabric underlay can be utilised and allows water to still seep through to the soil for healthy plant growth and keep weeds at bay.
Mulching & Bark Chips
Playford Garden Care can supply and install weed suppressing mulch as well as decorative bark chips of various styles and colours for your home or business garden project or landscape renewal.
Installing weed barrier matting is an ideal way to deter weeds before adding decorative bark chips.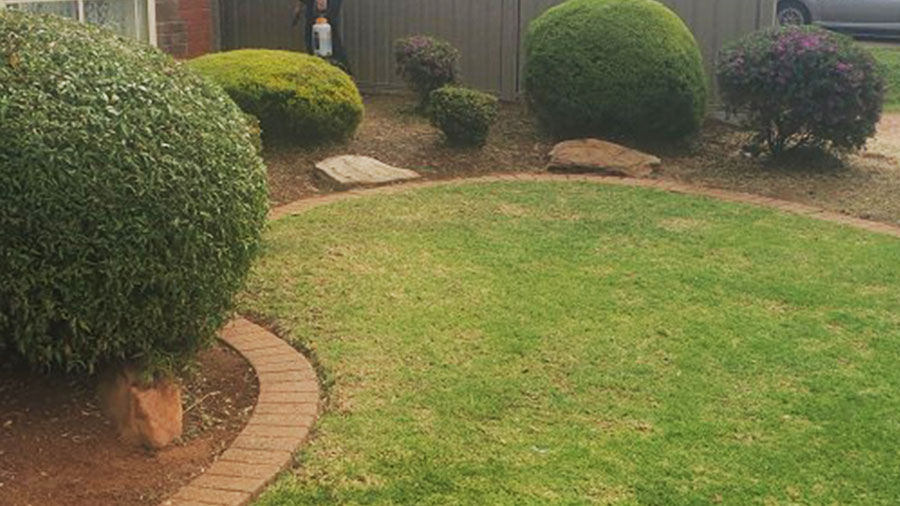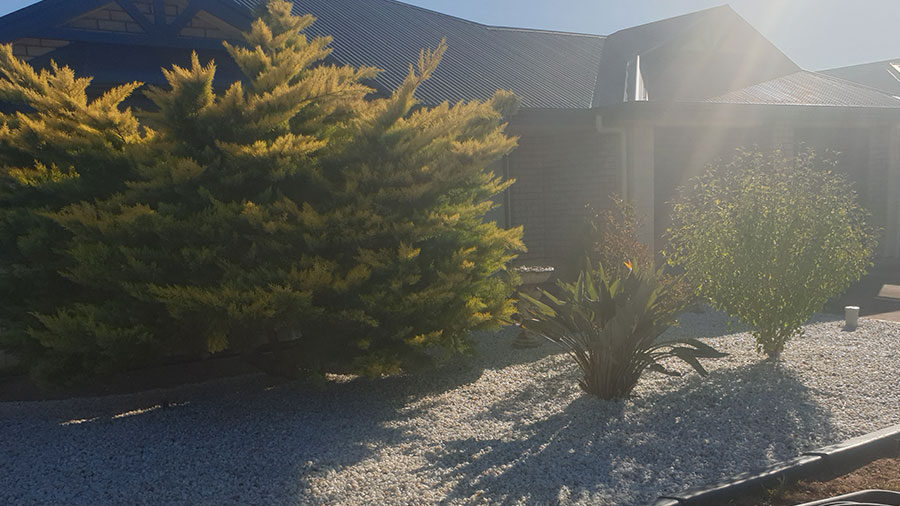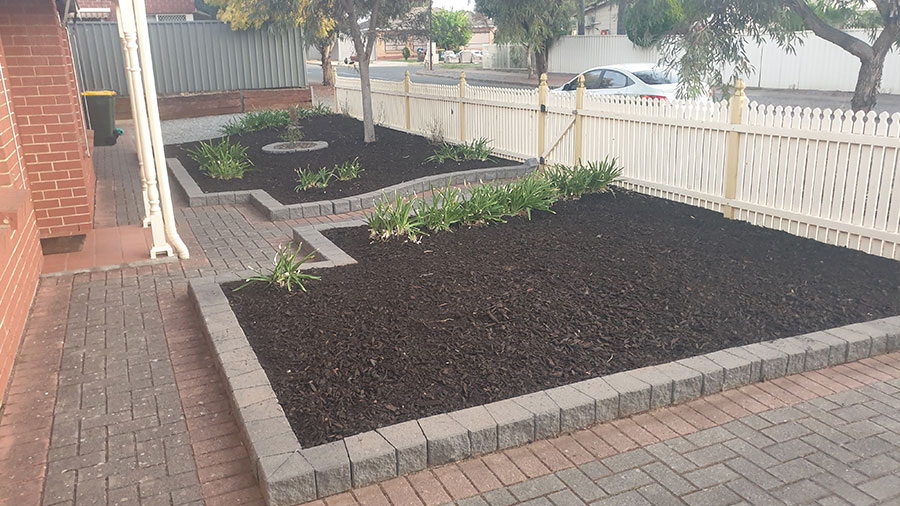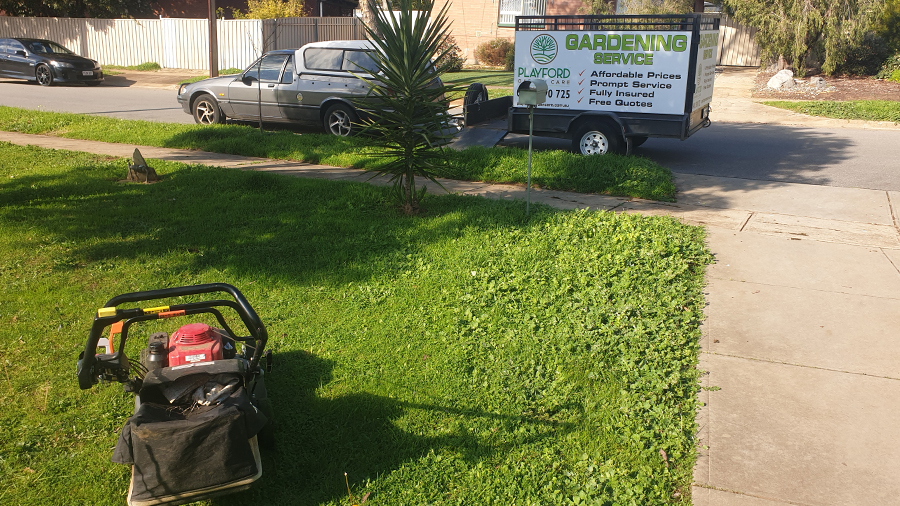 Playford Garden Care offer fantastic deals on lawn coring and scarifying throughout the year. Stay tuned for more details.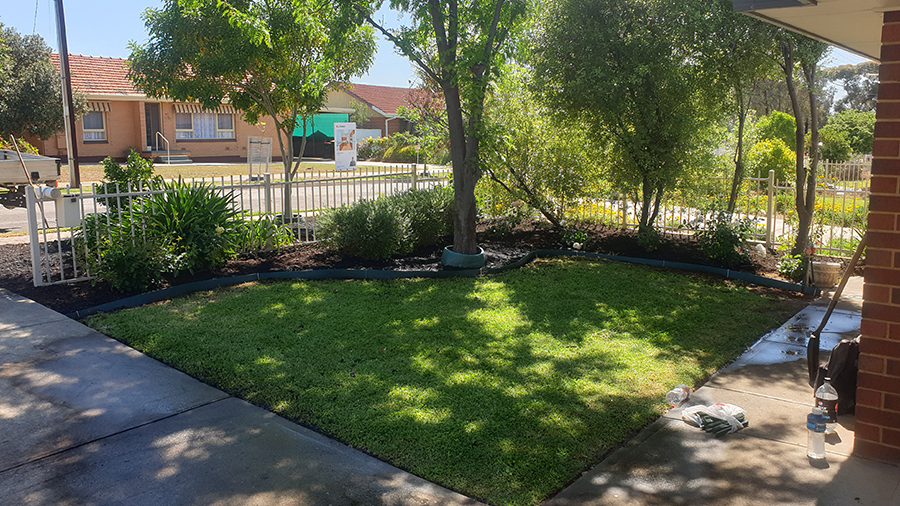 Monday to Saturday 8am to 8pm
Pricing and Quotes
We are competitively priced and offer free quotes on all services.
Due to the nature of our work we can't provide fixed price quotes over the phone or via email.
Our quotes are valid for 7 days.
Payment methods
We accept payment by Cash, EFT, Cheque and now Debit/Credit Card.
To make a payment securely online with your Debit/Credit Card –  Click here.
General Terms of Service
Playford Garden Care is committed to providing a safe efficient and professional garden care service.
Please ensure that the area we will be working in is clear of any obstacles such as hoses, toys and vehicles.  Should obstacles be in the work area we may need to mow around them.
For safety reasons people and animals are to remain a safe distance away while powered equipment is in use.
Bookings may need to be postponed and re scheduled in wet weather and temperature extremes.